Apple managed another record-breaking third quarter in its latest financial results. Here's how Q3 2021 for the iPhone maker stacks up against previous quarters over the years.
On Tuesday, Apple announced its quarterly earnings, with the third fiscal quarter of 2021 outpacing the expectations of analysts. It did so in continuing challenging conditions, seeing further improvements over Q3 2020 despite the COVID-19 pandemic being a global issue.
Here's what the latest quarter looks like compared to previous results.
Revenue and Net Profit
In the quarter, Apple managed to achieve $81.4 billion in revenue across all sectors. This is record-setting as it's the best third quarter Apple has ever achieved, with year-on-year growth of 36.3%.
To put that into perspective, consider the figure against previous Q1 results, the quarter that is typically Apple's highest-revenue of the financial year. Q3 2021's results are less than $3 billion behind Q 2019's results, and roughly $3 billion ahead of Q1 2017's revenue.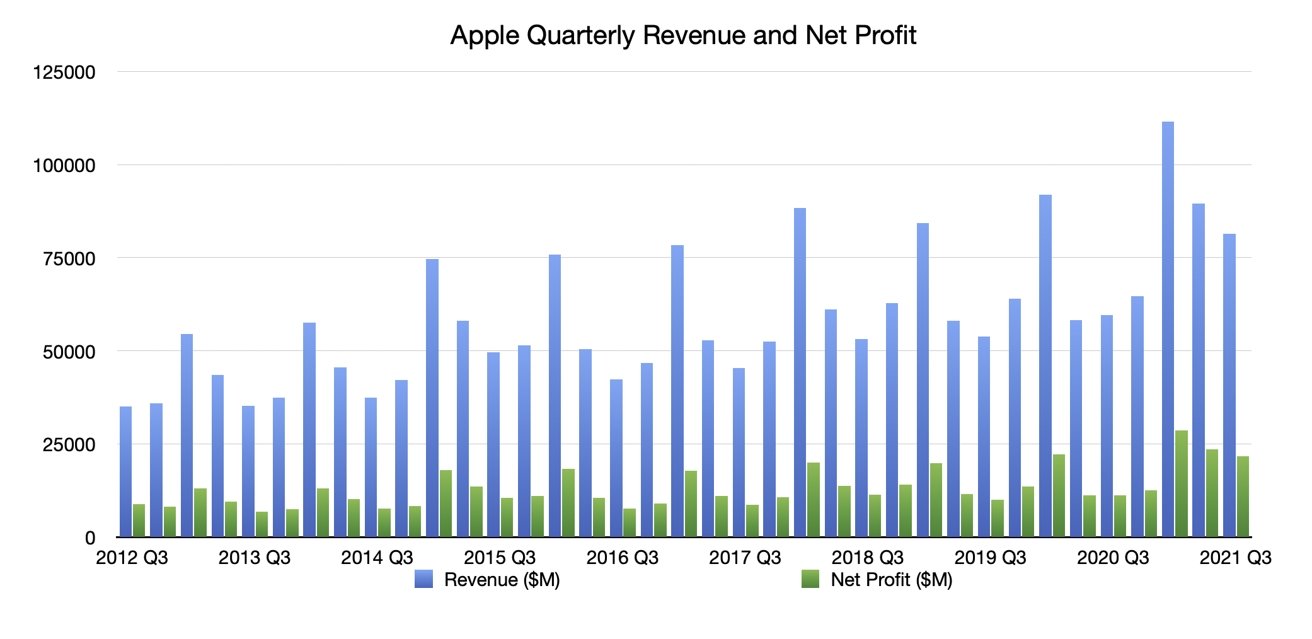 The net profit for the quarter was $21.7 billion, which is growth of 93% year-on-year.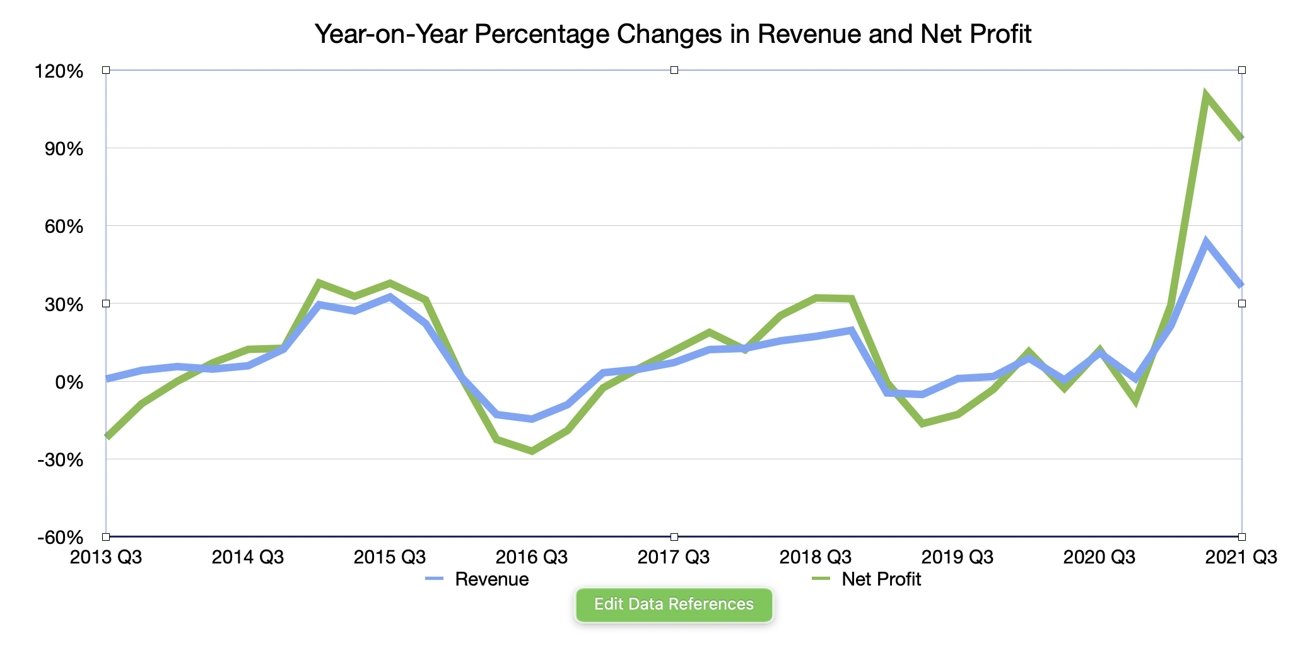 Q3 2021 Apple Quarterly Revenue and Net Profit Year-on-Year Change
Gross Margin
Typically an indicator of Apple's profitability, the percentage for Q3 2021 is 42.29%, up from 38% one year ago. The percentage isn't a record-breaker, as Apple saw 47.37% in Q2 2012, but it's still a very good figure for the company.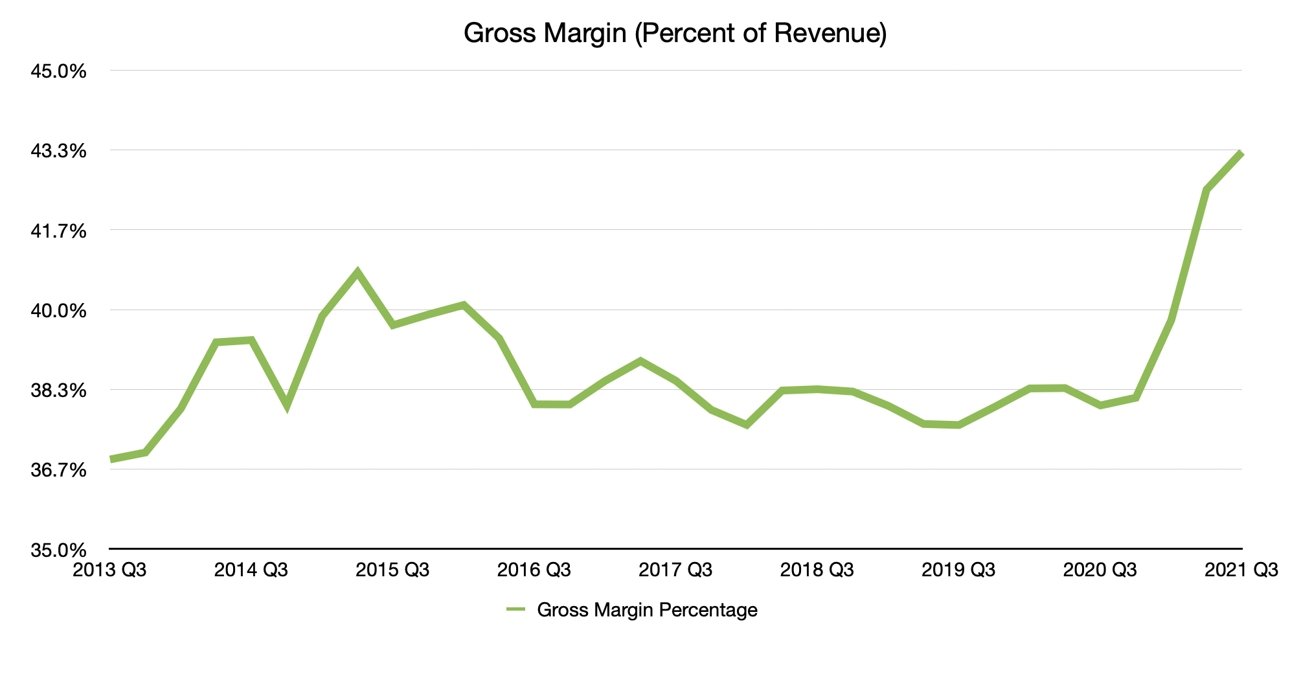 Q3 2021 Apple Gross Margin Percentage
Operating expenses for the period were $11.1 billion, up 16.1% from $9.6 in Q3 2020. The operating income was $24.1 billion, up from one year prior's $13.1 billion by 84.3%.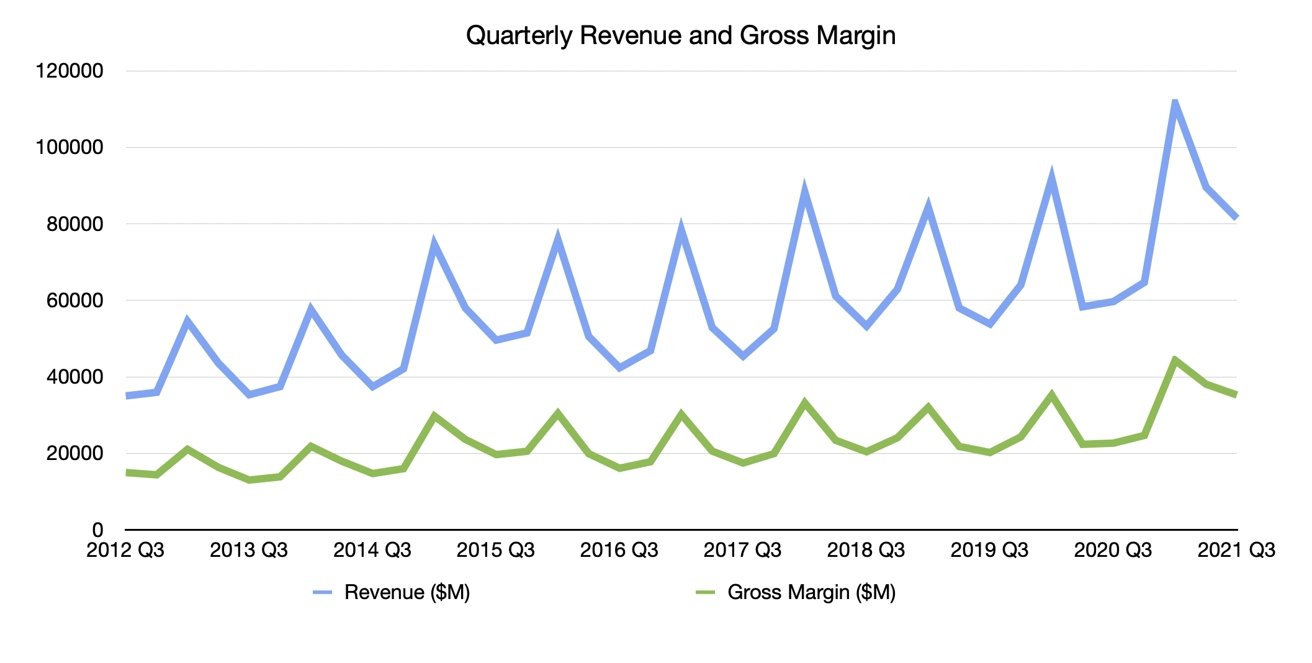 Q3 2021 Apple Gross Margin and Revenue
Research and Development
For the improvement and creation of products and services, big companies have to spend billions on research and development, and Apple is no exception.
For Q3 2021, Apple spent $5.7 billion on research and development costs, representing a 20.2% increase from the same quarter in 2020. The number is also a record for Apple, beating the previous-highest quarter for R&D costs, Q2 2021 at $5.26 billion.
Given that it is a figure that is an ongoing and consistently rising cost that is largely disconnected from revenue figures, it's probable that future quarters will see even greater investment levels.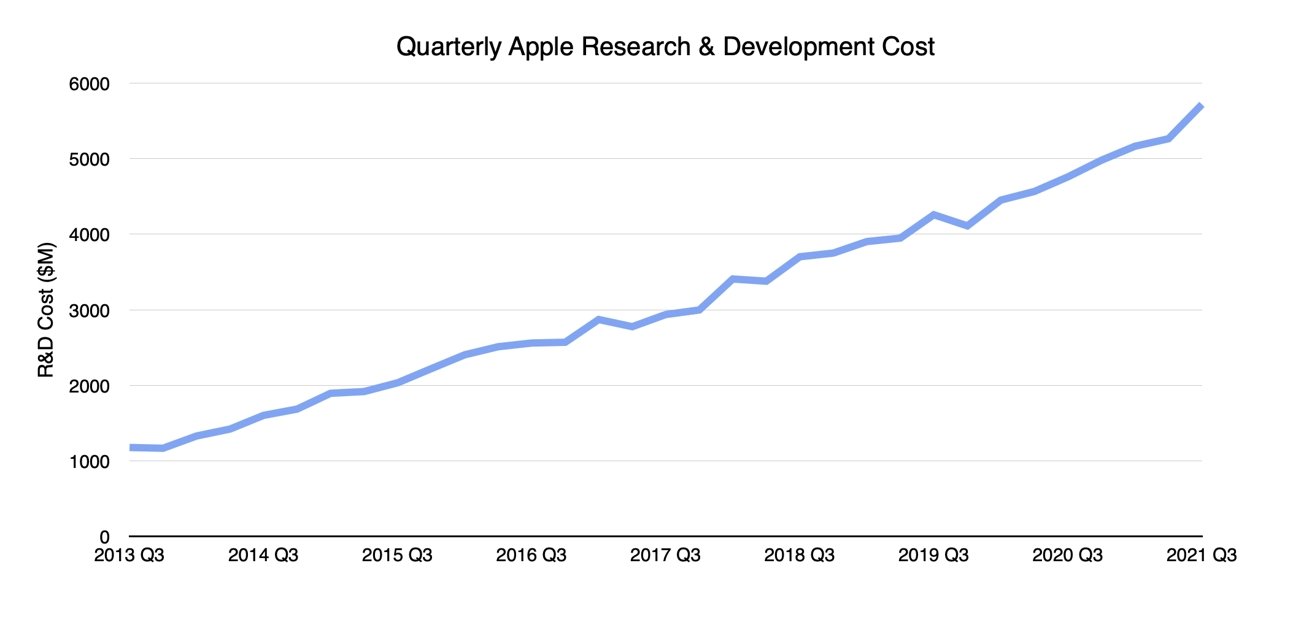 Q3 2021 Apple Quarterly Research and Development Cost
Products
From quarter to quarter, it has been fairly easy to tell that the bulk of Apple's revenue stems from its primary product, the iPhone. It's hard not to spot the trend over time, with the blue bars taking up the most space on the charts.
However, the other shorter bars are slowly growing each quarter, helping bulk up Apple's revenue. The iPhone may be important, but Apple's also earning considerable revenue from other areas too.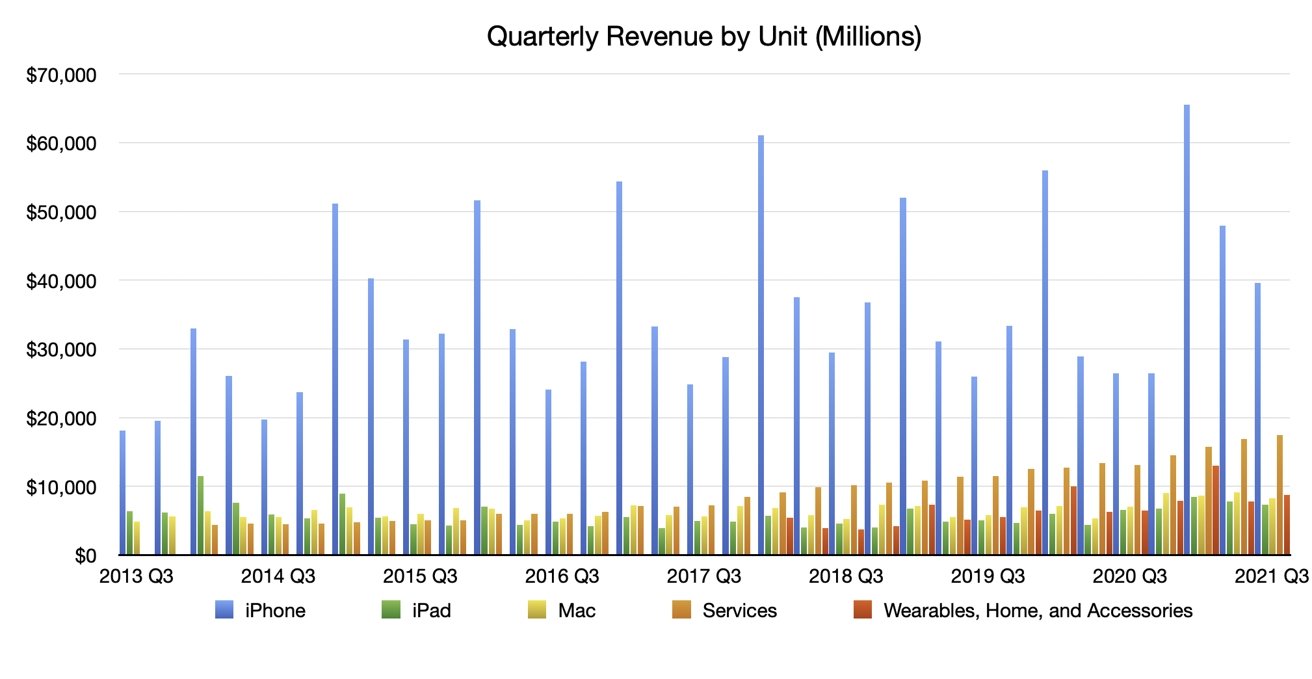 Q3 2021 Apple Quarterly Revenue by Unit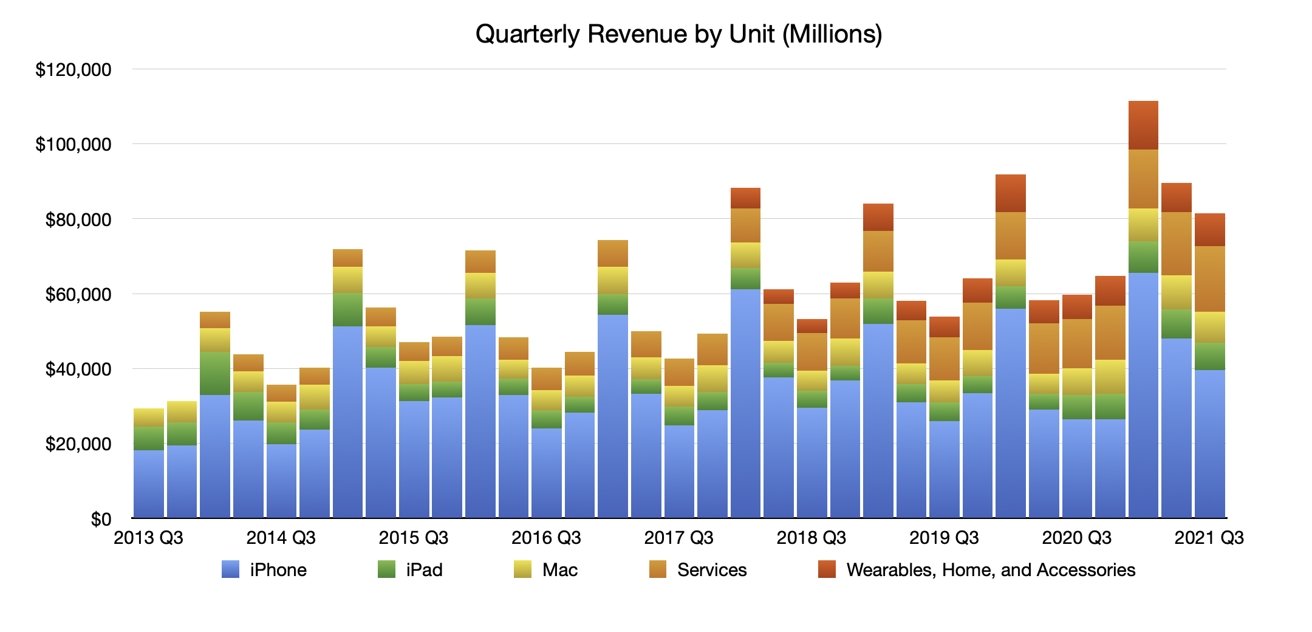 Q3 2021 Apple Quarterly Revenue by Unit, Stacked
Looking at the year-on-year percentage changes, the iPhone is still a massive earner that is seeing growth in 2021, though all other units have also benefited to varying degrees.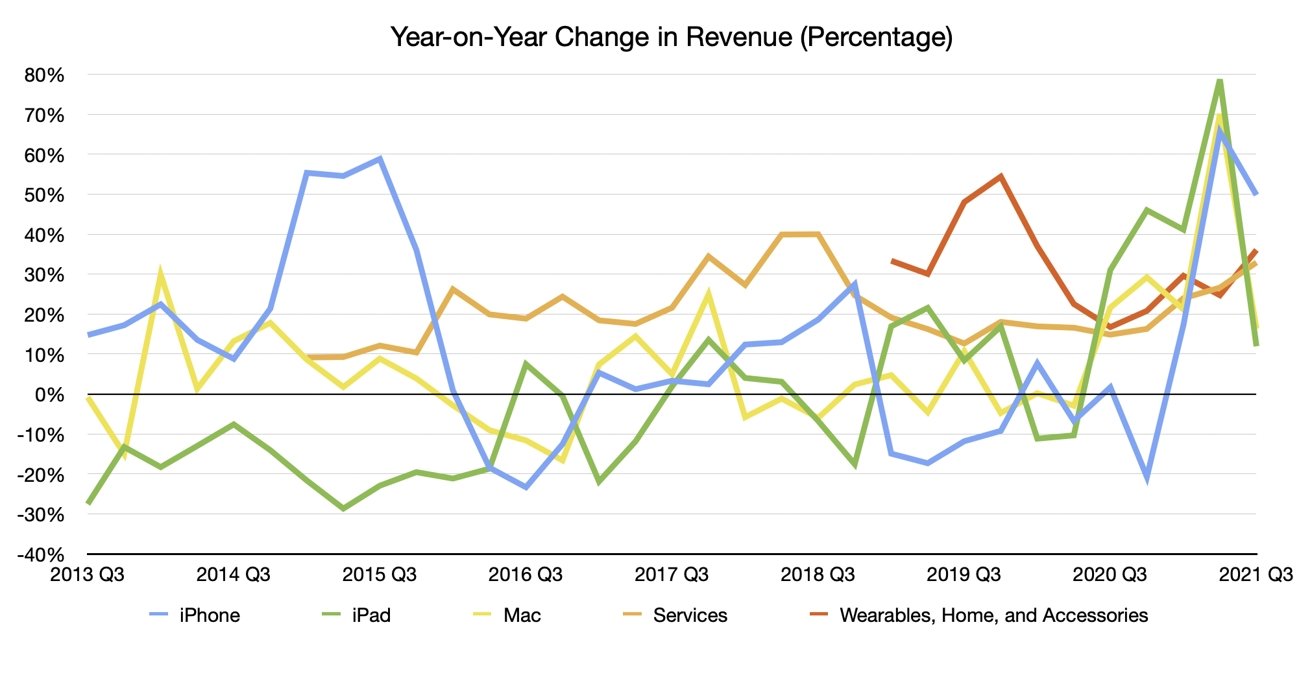 Q3 2021 Apple Quarterly Revenue by Unit Year-on-Year Change
When examined as a percentage of overall revenue, it's plain to see that iPhone is still a main force of Apple's revenue. However, for Q3 2021, it's only 48.6% of total revenue, with Services making up 21.5%, Wearables, Home, and Accessories at 10.8%, Mac at 10.1%, and iPad at 9%.
While some analysts believe Apple is turning towards becoming a Services-centric company, this graph shows it may be the case, but it's still a very gradual process.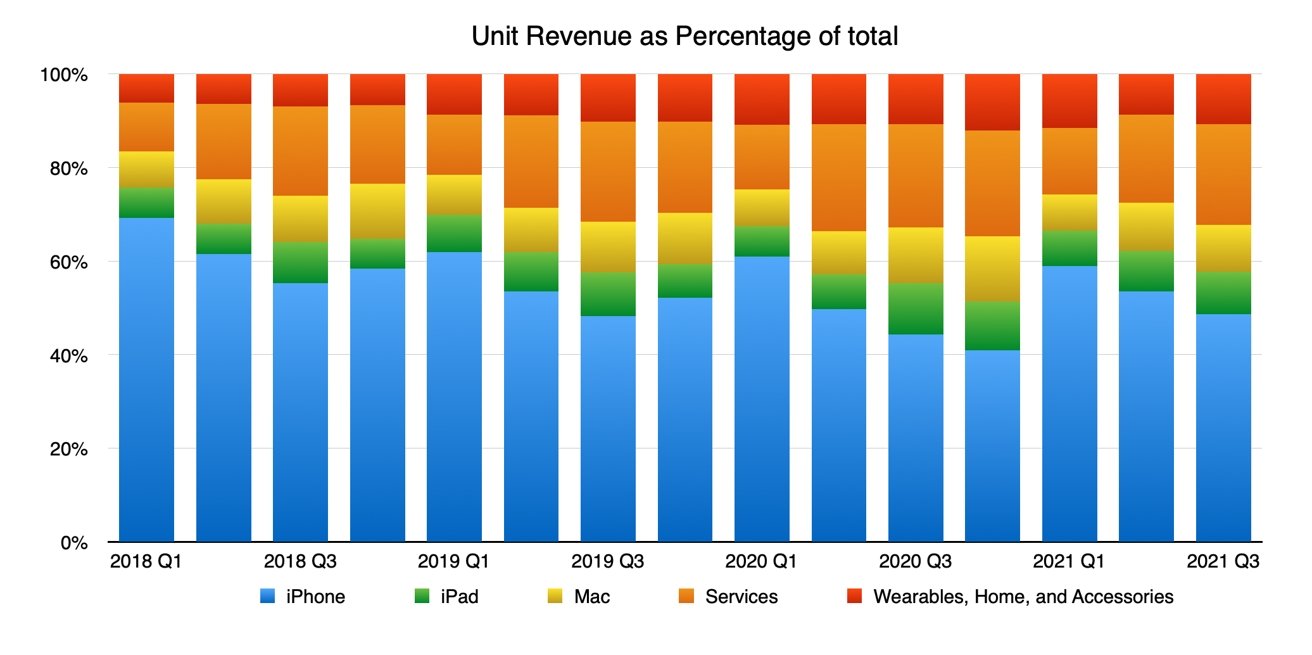 Q3 2021 Apple Units as Percentage of Total Revenue
iPhone
The big-seller of the group is still the iPhone, which managed $39.6 billion in the quarter, a year-on-year increase of 52% from $25.98 billion. This is a record-setting Q3 for Apple, with it being the highest iPhone revenue for this quarter in the financial year, by a wide margin.
For perspective, consider that the third quarter is typically the worst for Apple among all four phases of the year. The $39.6 billion for Q3 2021 is better than the $32.9 billion from Q1 2014.
Apple's worst quarter of the year for iPhone sales is better than the best quarter of seven years prior.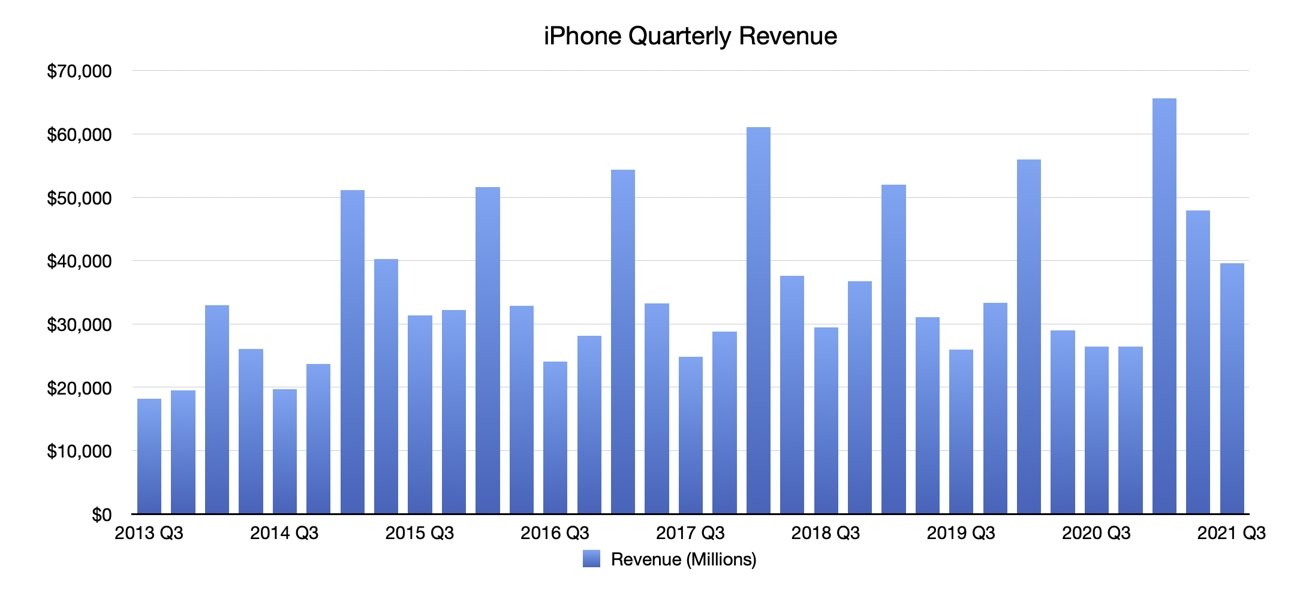 Q3 2021 Apple Quarterly iPhone Revenue
It's plain to see that 2021 has been a fantastic year for iPhone, and the year-on-year change graph shows it. The high change is coming off the back of a year when Apple had middling growth to poor shrinkage.
If 2020's poor performance was a massive shrinkage in revenue for iPhone, the high 2021 percentage would be more easily explainable as a correction of course and nothing to be excited about. 2020 was a relatively flat year, making the sky-high percentage that much more impressive.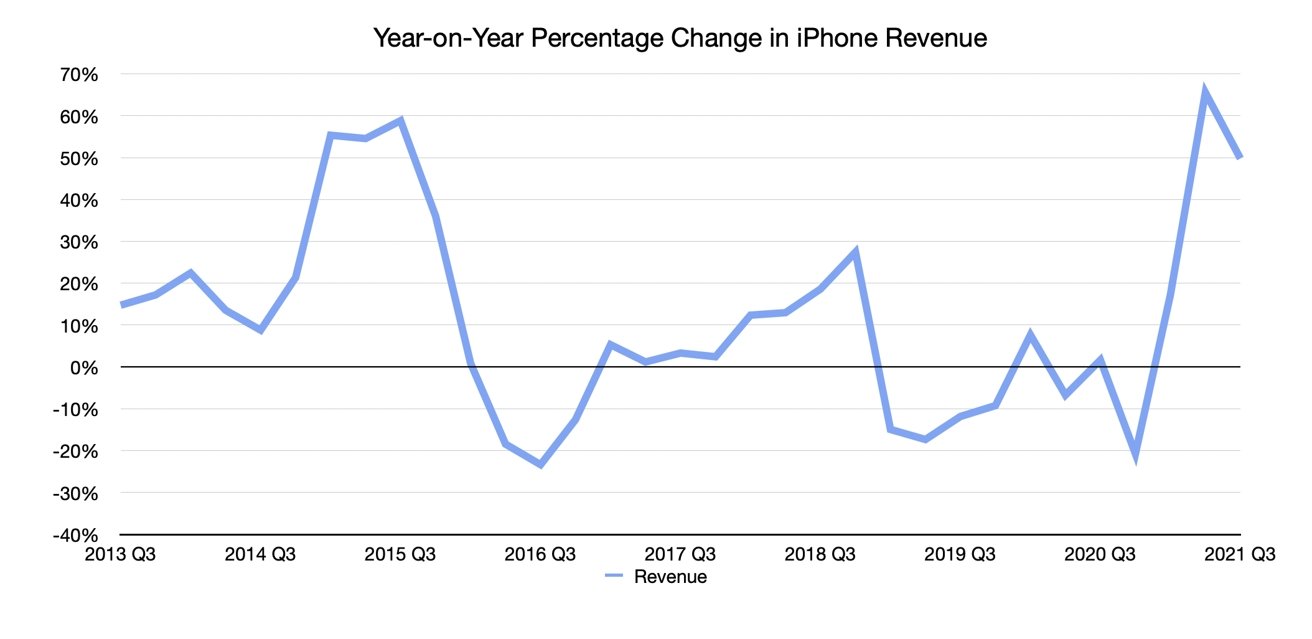 Q3 2021 Apple Quarterly iPhone Revenue Year-on-Year Change
iPad
The iPad continues to enjoy high popularity, with it securing $7.37 billion in revenue for Q3 2021. Versus the $6.58 billion from Q3 2020, this is an improvement of 11.9% year-on-year.
Bear in mind that, while seemingly small, the increase builds on top of the massive 31% YoY change Q3 2020 enjoyed, and follows after three other quarters that saw 46%, 41.7%, and 78.7% YoY growth.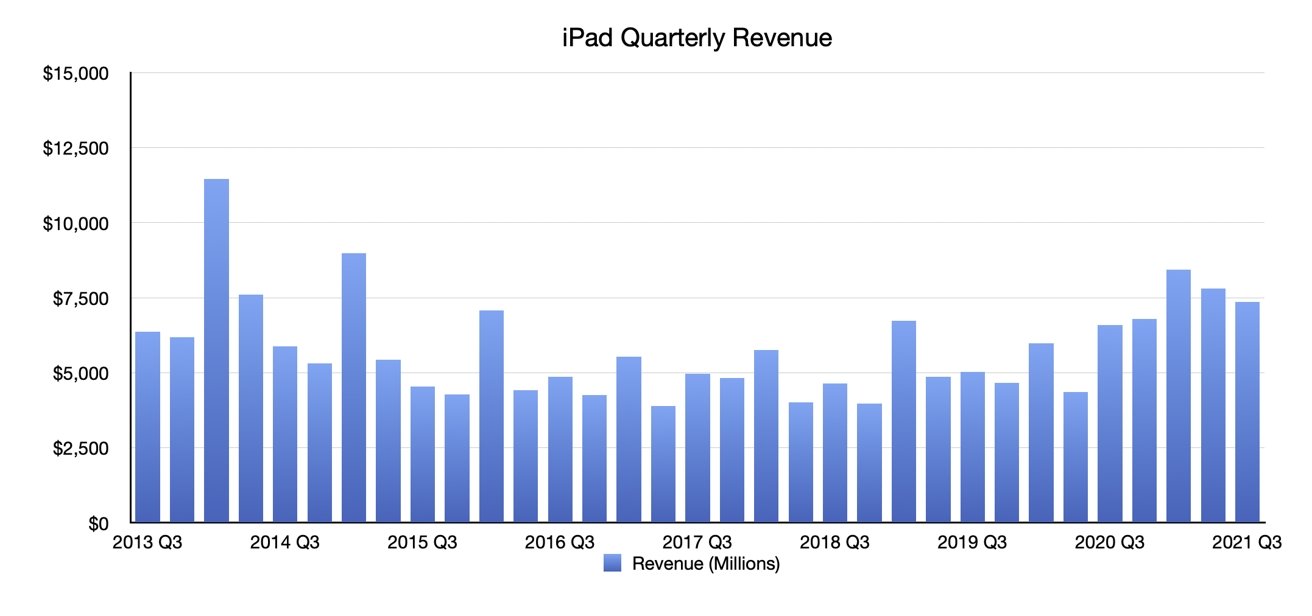 Q3 2021 Apple Quarterly iPad Revenue
Mac
Continuing to benefit from social distancing measures and work-from-home initiative, as well as the transition to Apple Silicon, the Mac unit saw revenue of $8.2 billion. This is an increase of 16.3% year-on-year.
The Mac is in a similar situation to the iPad, in that the growth is building on top of the high growth levels seen in 2020. For Q3 2020, that quarter enjoyed 21.6% YoY growth, following after multiple quarters of single-digit growth and shrinkage.
It is still a very encouraging sight for the unit, especially for the launch quarter of the 24-inch iMac, though it remains to be seen how long the good times will last.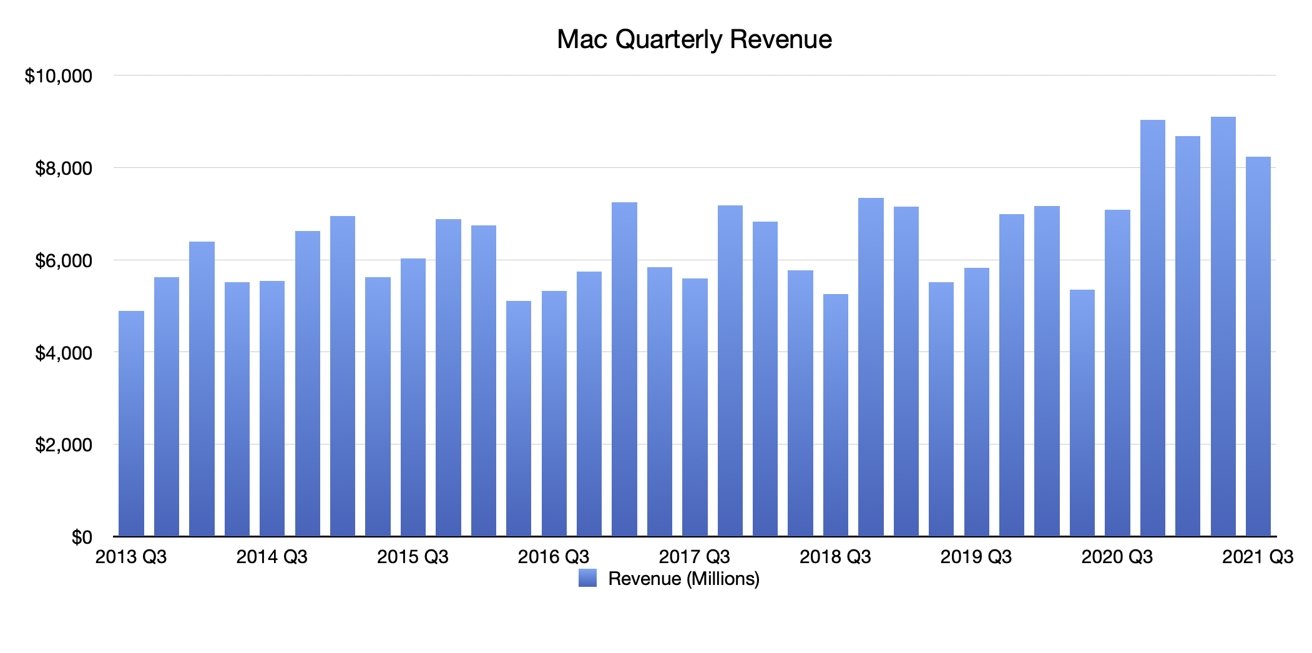 Q3 2021 Apple Quarterly Mac Revenue
Services
Services, which encompasses the App Store, Apple TV+, and other elements of Apple's empire, is an unusual feature of Apple's financial landscape. Among the different units Apple reports on, it is considered a reliable growth center for the company, with oddly steady increases each year.
For Q3 2021, Services managed $17.5 billion in revenue, a record for the arm, and up $4.3 billion from Q3 2020's figure. This represents year-on-year growth of 32.9%.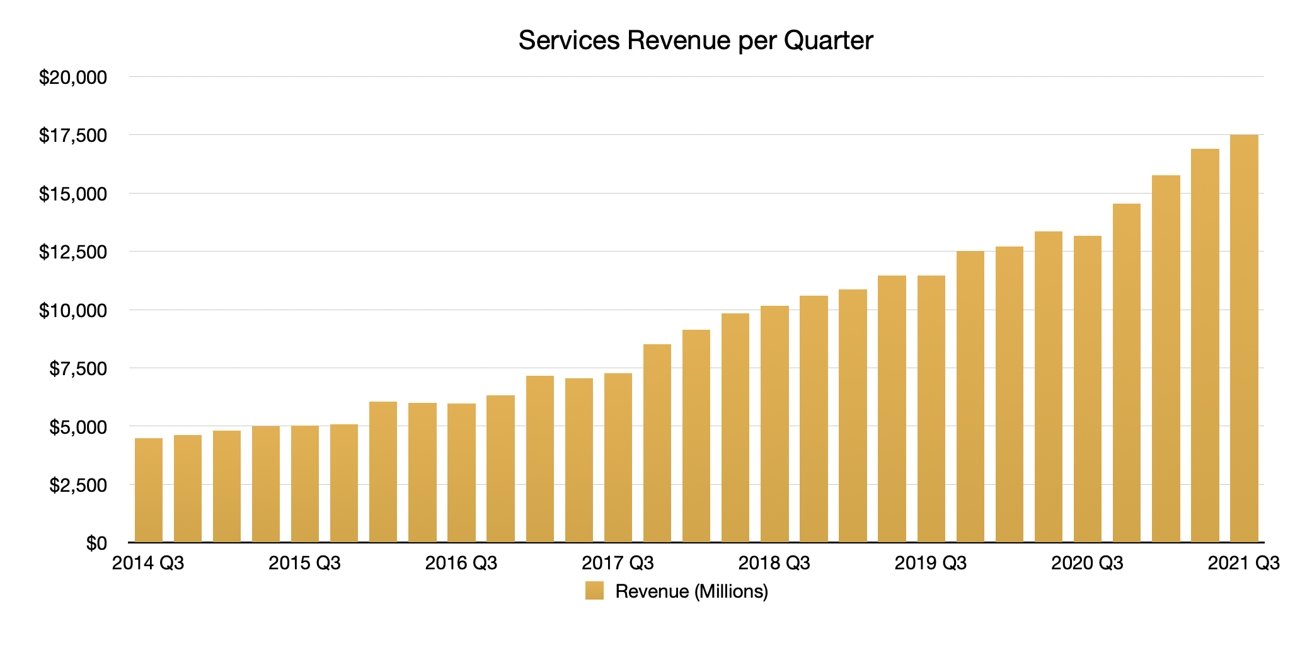 Q3 2021 Apple Quarterly Services Revenue
The odd regularity of Services growth is easily visible here, with it managing double-digit gains for 25 straight quarters. In Q2 2015, it saw YoY growth of 9.2%.
It seems likely that Services is again benefiting from social distancing measures, with more users electing to stay home and to work and learn remotely, as well as to entertain themselves without going out. It's likely that Services will enjoy its double-digit streak for a while longer.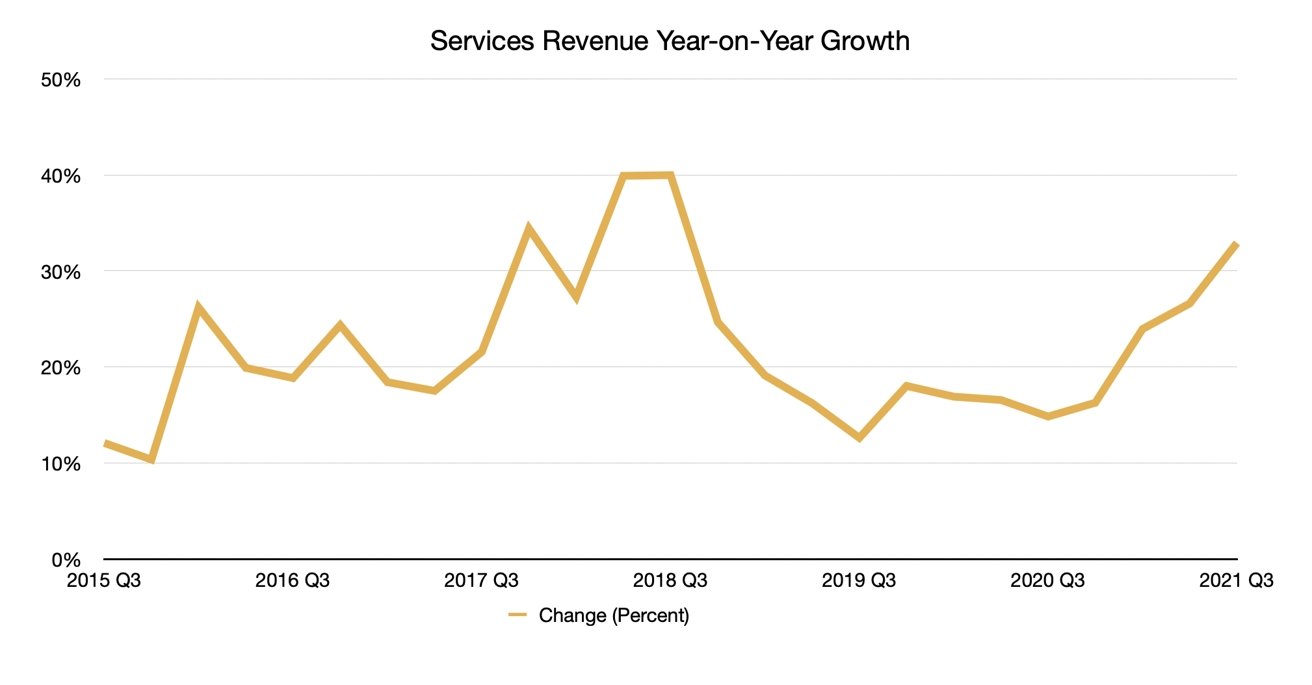 Q3 2021 Apple Quarterly Services Revenue Year-on-Year Growth
Wearables, Home, and Accessories
The newest of the units, the Wearables, Home, and Accessories category is also a high-growth area for Apple. In the period, it reported revenue of $8.78 billion, up from $6.45 billion one year prior, and an increase of 36% year-on-year.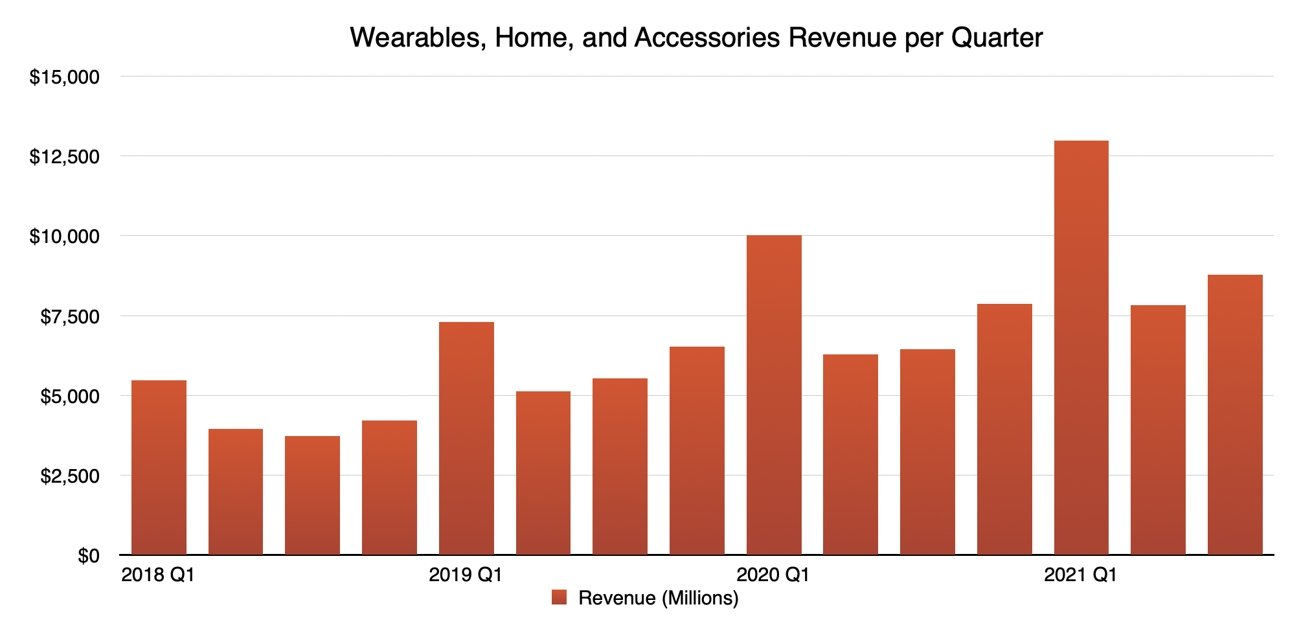 Q3 2021 Apple Quarterly Wearables, Home, and Accessories Revenue
Like Services, Wearables is a double-digit growth area for Apple, and after a brief dip in 2020, it's now firmly above 20% YoY growth each quarter.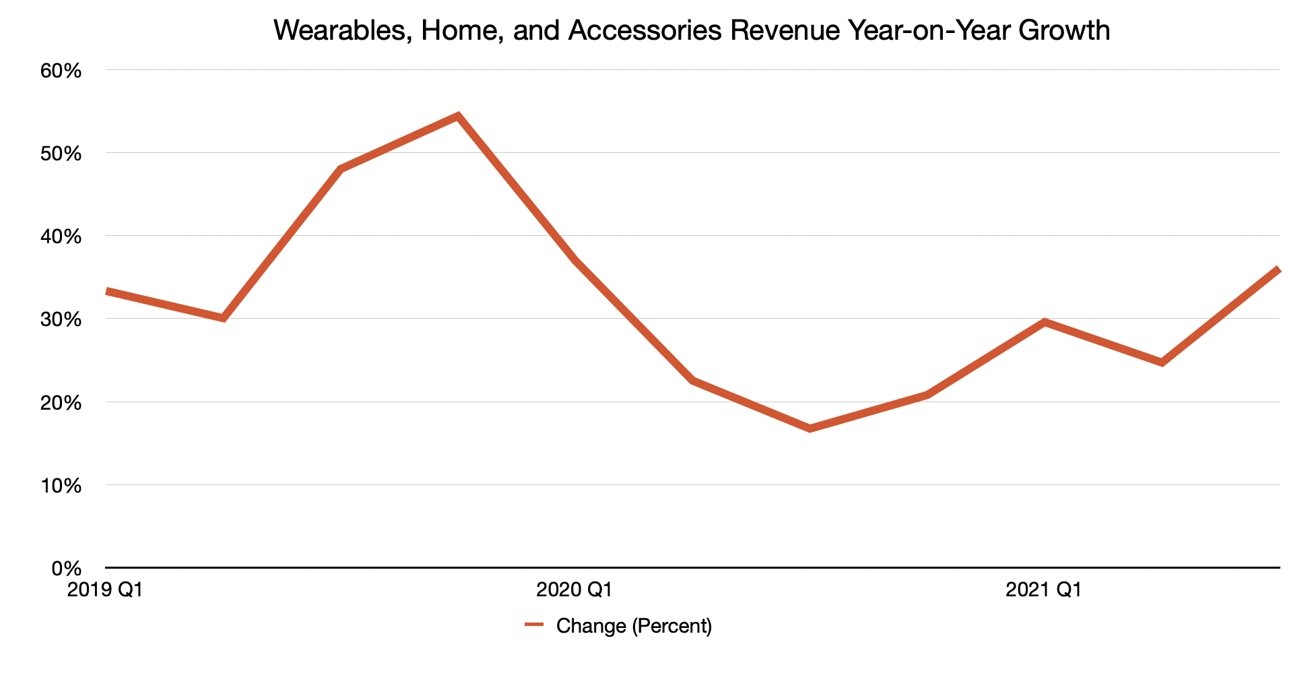 Q3 2021 Apple Quarterly Wearables, Home, and Accessories Revenue Year-on-Year Changes
Regional Revenue
For Q3 2021, there's no change in which region is in first place with regards to Apple's revenue. The Americas brought in $35.87 billion, followed by Europe with $18.9 billion, Greater China at $14.76 billion, then Japan with $6.46 billion, and Rest of Asia Pacific at $5.39 billion.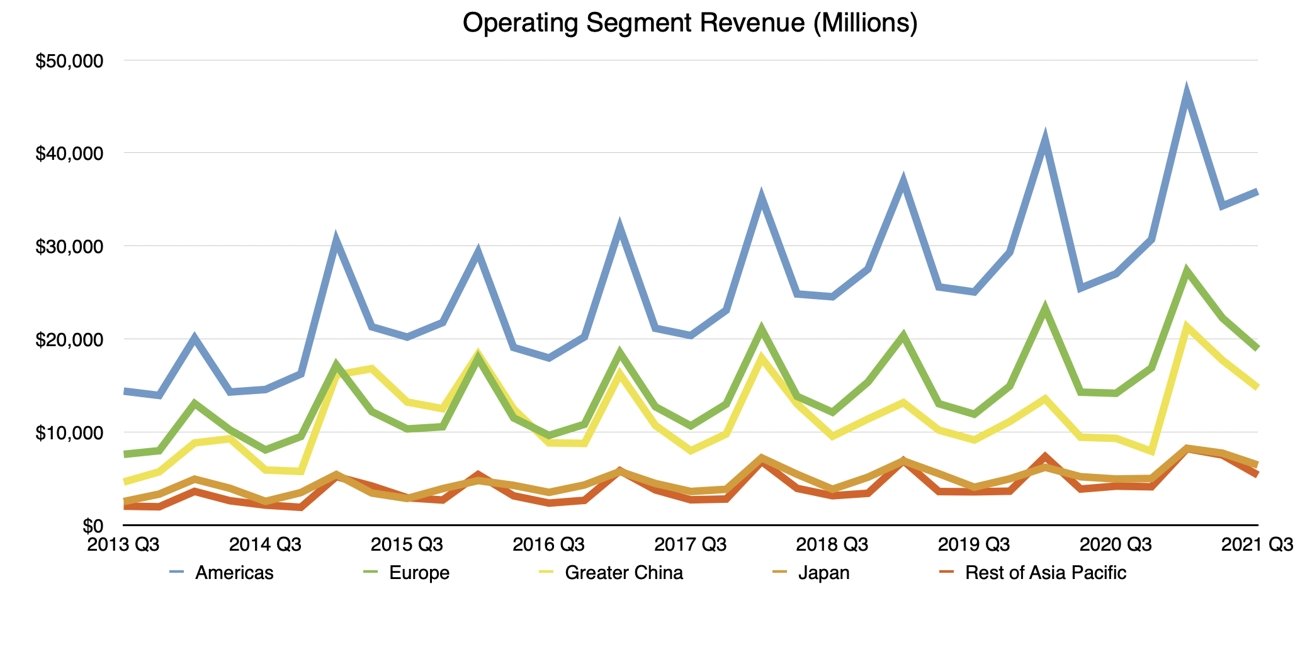 Q3 2021 Apple Operating Segment Revenue
When looked at on a year-on-year basis, all areas are obviously doing very well. The Americas, Europe, Japan, and RoAP all manged around 30% growth on average, which is great, but the biggest improvement was in China.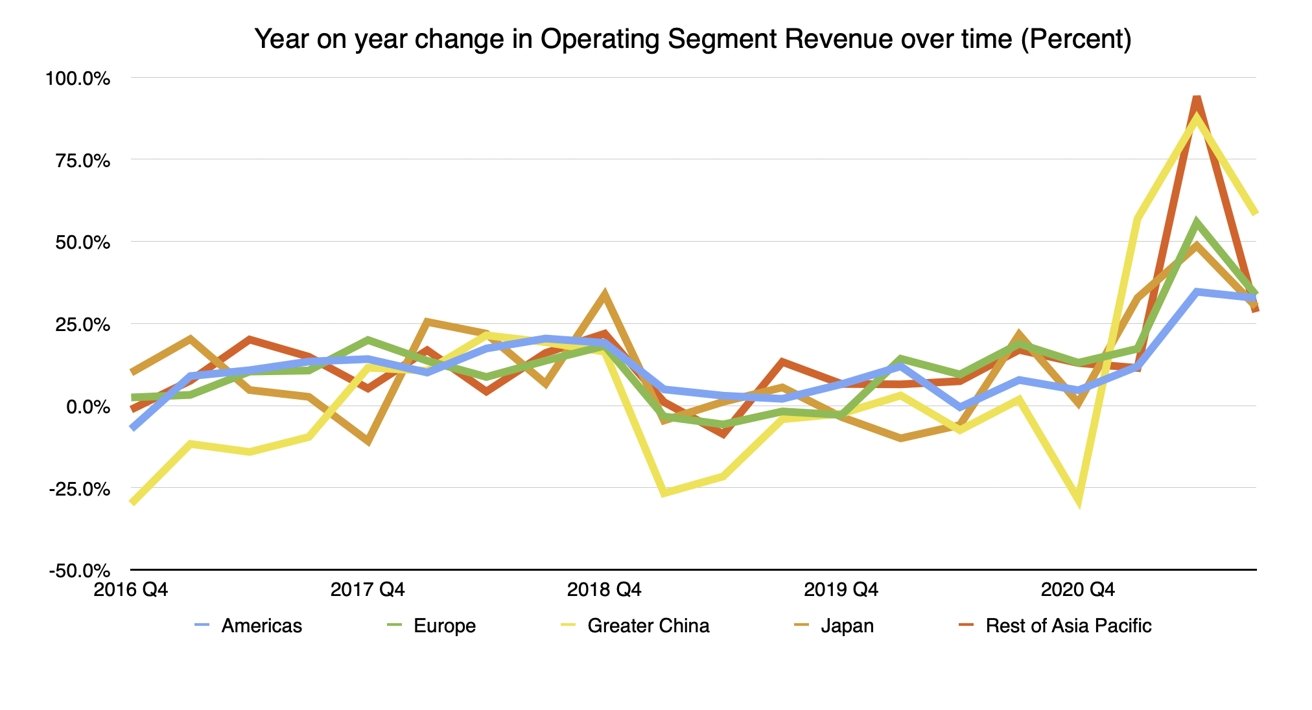 Q3 2021 Apple Operating Segment Revenue YoY changes
A market that Apple has been keen to crack for years, China is seeing "across the board strength", according to Tim Cook. Approximately two thirds of buyers in China are apparently new to iPhones, rising to 85% for the Apple Watch, versus 75% for the Apple Watch for the world in general.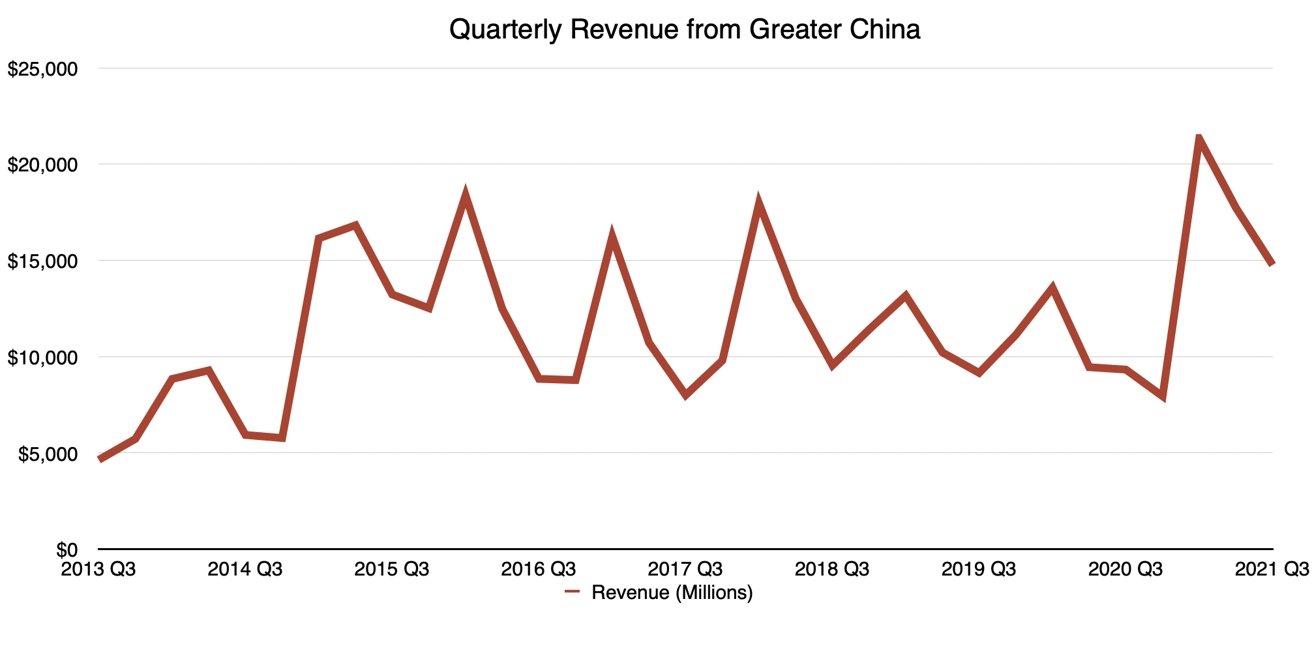 Q3 2021 Apple Revenue from Greater China
China's growth was, like the last two quarters, stratospheric. Off the backs of 57% and 87.5% YoY growth for Q1 and Q2, Q3 achieved 58.2% growth.
This is arguably as impressive as the Q2 2021 growth, as Q2 2020 saw YoY shrinkage of 7.5% while Q3 2020 remained flat at 1.9% growth. All eyes will be on the Q4 2021 results, as Q4 2020 saw the biggest contraction in 16 quarters by 28.6%.
While Q4 2021 will probably show YoY growth, it's anyone's guess how much growth there will be, and how it will proportionately compare to other 2021 quarters.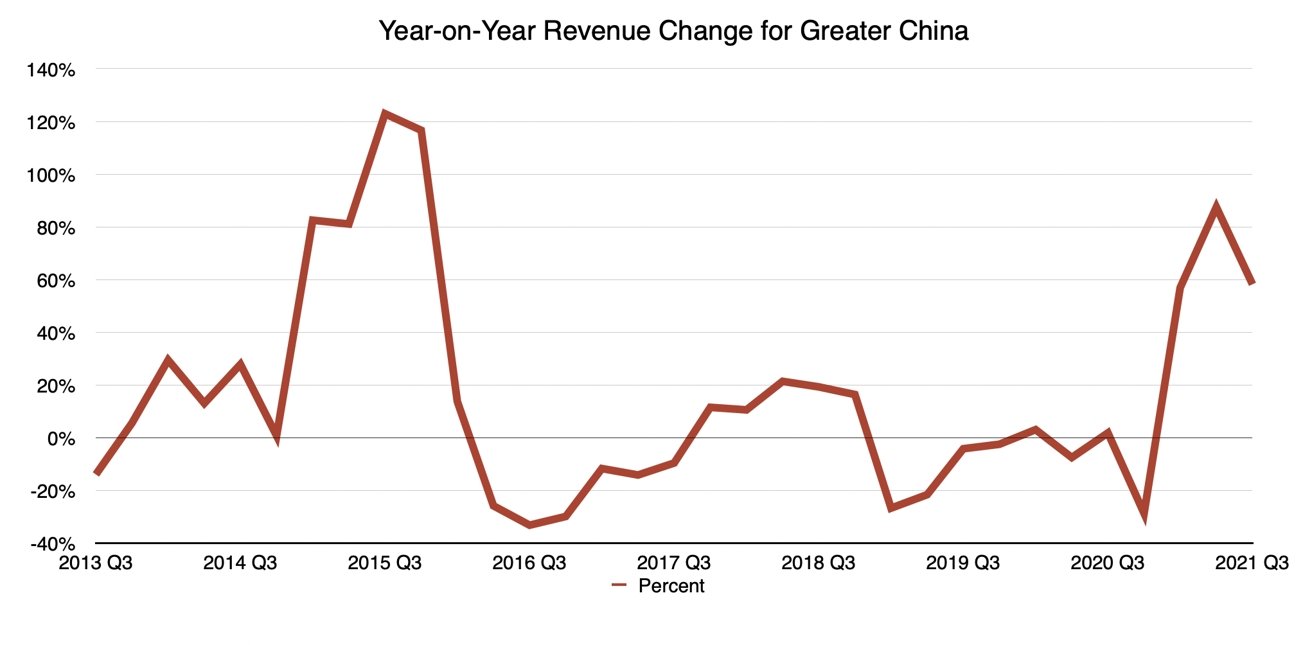 Q3 2021 Apple Revenue from Greater China YoY changes