The Vissles V1 is a full-on loud mechanical keyboard for Mac or iPad, with great sound in a compact, wireless form factor.
This is not for you if you're uncertain about mechanical keyboards. The Vissles V1 makes no concessions to anyone moving from a chiclet-style keyboard, such as the Apple Magic Keyboard.
Instead, it feels like computer keyboards used to — and it sounds like they used to, as well.
Easily the best part of this keyboard is that it is actually fun to use. The clacking loud keys and the feel of its travel as you press down make it all ridiculously entertaining.
There is an issue, then, of how long that fun lasts. If this were just a toy keyboard, then it might make all the right noises but soon be wearying to type on.
As it is, while you never forget you're using a mechanical keyboard, it keeps on working well.
You do feel that you need to have your hands hovering over the keys, as there's no built-in wrist support. Overall the design is much higher than, say, that of the similar width Keychron K3.
Design — switches and keys
Vissles describes this as chiefly for "nonstop gamers and typers," meaning that it's meant to be hard-wearing. That applies whichever form of this keyboard you choose, with your options being between different key types.
The keyboard is offered for the same price in a choice of red, blue, and brown switches. As ever, you can't truly know which key type suits you until you've tried them. However, very broadly, the blue version is the loudest and needs the firmest press of the keys.
In comparison, red keys are generally quieter — but it was the red version that AppleInsider tested, and it is loud enough. None of these options are going to be quiet enough for you to remain friends with co-workers in the same office.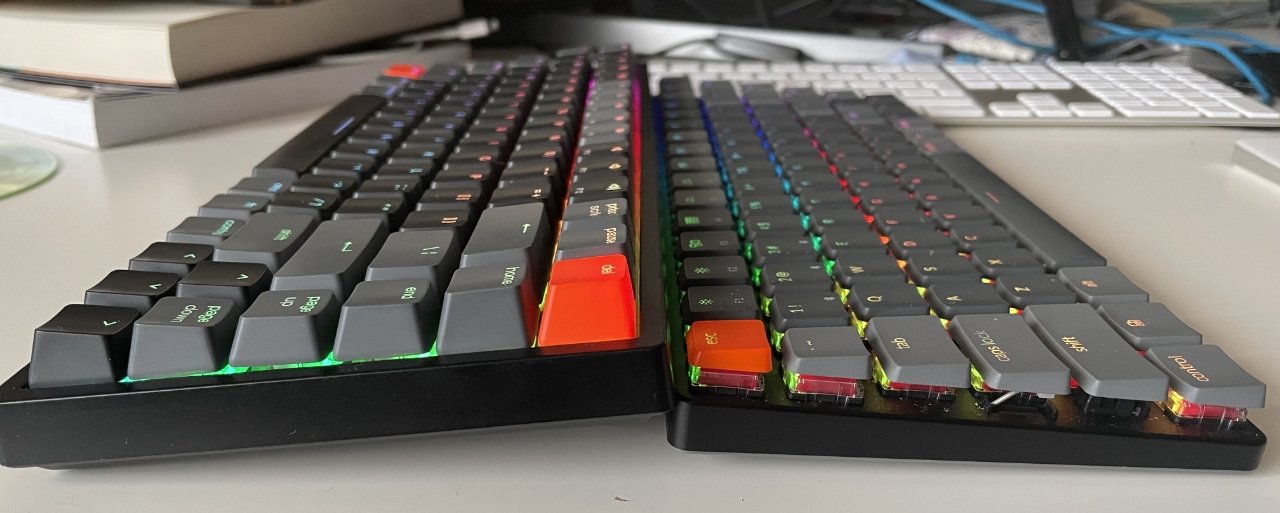 Left: Vissles V1. Right: Keychron K3. (Back right: Apple Magic Keyboard.)
The Vissles V1 is a 75% size keyboard, what's known as a "tenkeyless" one — so it lacks a numeric keypad. Certain keys can be swapped out, and Vissles provides three alternative keycaps for Mac and Windows if you need proper key labeling.
As shipped, it has the Mac's Option, Command, and Cmd keys fitted. Included in the box are the Windows key and two Alt key alternatives.
Design — backlighting, typing angle and connectivity
As used straight out the box, the Vissles V1 is a high keyboard, standing around twice the height of the Keychron K3. There is no way to lower it, but there are optional extra feet to raise and angle it.
This footbar, as Vissles calls it, is really a pair of magnetic footpads that raise the back of the keyboard by 6%. It obviously doesn't reduce how high a keyboard is, but it does make a marked difference to the typing angle.
Regardless of the angle or the switches used, the keyboard comes with 9 single-color monochromatic backlighting or 19 dynamic effects.
There is absolutely no point or benefit to how many strobing, flashing, and moving color effects there are, especially not if you are a touch typist who doesn't need to look at the keys. Yet the bright lights, the vivid colors, and the moving patterns are deliciously mesmerizing.
That really rather sums up the keyboard. You don't need it, but it's a treat to use.
In that use, Vissles claims an average of 180 hours of typing with monochrome backlighting when using it as a wireless keyboard.
It does ship with a USB-C cable that's used for charging, and unlike some other similar keyboards, there is no obvious option to swap from Bluetooth to a wired connection quickly. You can plug in the USB-C cable and then flick the keyboard's on/off switch.
The on/off switch is on the underside of the unit, and regardless of which position it's in, the keyboard will work if there's a cable attached.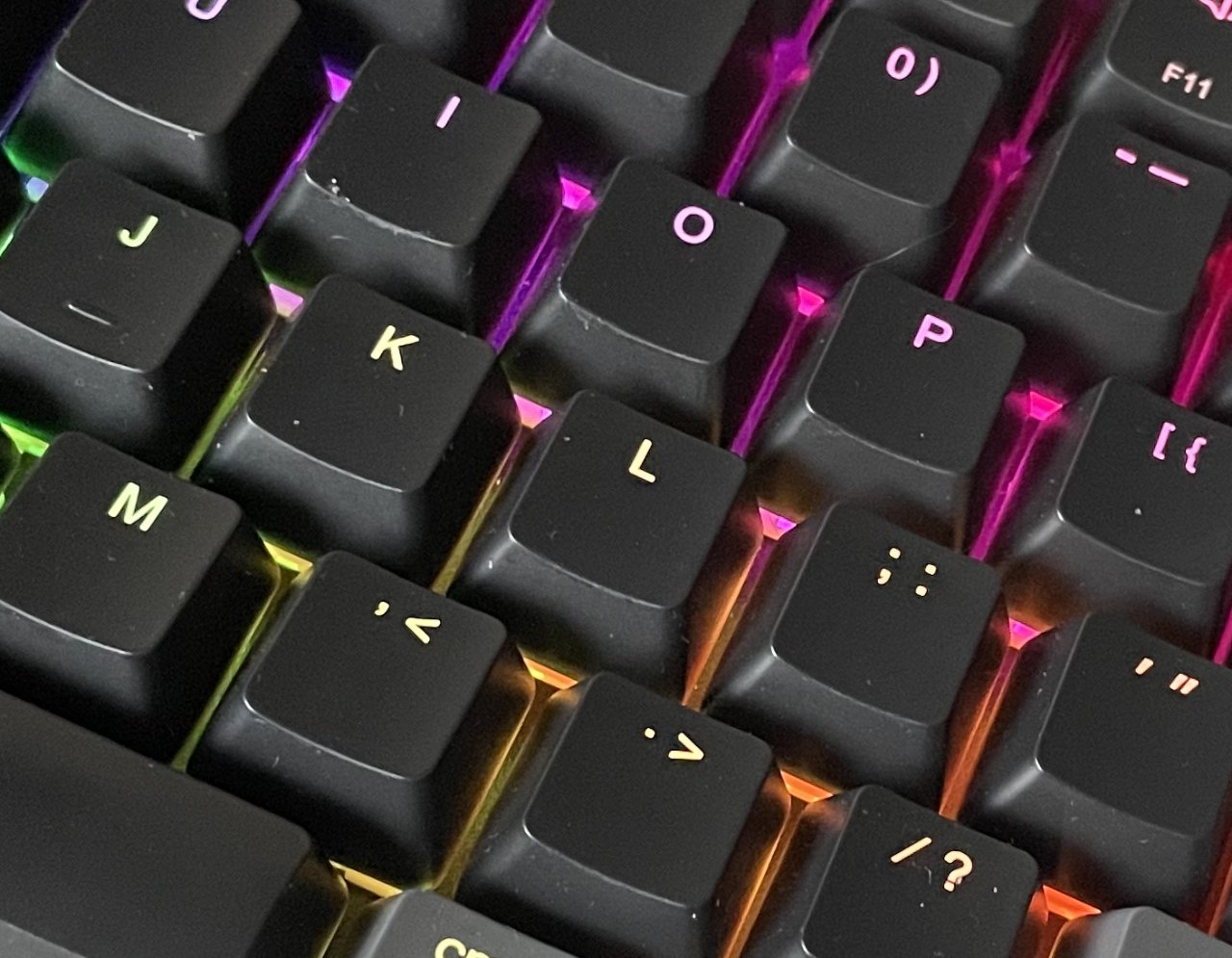 No one really needs strobing, muliut-colour backlighting but it's fun to have
For wireless connections, the Vissles V1 has the ability to pair with up to five devices. That's more than many other Bluetooth wireless keyboards, but if it can connect to more, in practice the Vissles V1 isn't as good at connecting from afar.
This is definitely meant to be used on your desk, in front of your Mac, or iPad. Take the keyboard away, even a few feet, and the connection is spotty.
Should you buy the Vissles V1
At $89, this is a little more than the Keychron K3, which offers a more low-height, compact design. The Vissles V1 needs a more definite press on the keys than that model, and that pressure is rewarded with a satisfying clacking kind of sound.
It's not for someone unsure about swapping from chiclet keyboards. Instead, it definitely needs a whole-hearted commitment to mechanical keyboards, but that's no bad thing.
Pros
Loud and strong
Enjoyable typing experience
Able to switch quickly between give devices
Comes with many backlighting options
Cons
Higher than alternatives
Bluetooth distance is quite short
Rating 4 out of 5
Where to buy