The Nebula Astro Portable Projector makes up for hit-and-miss software and short battery life with portability and an abundance of viewing options.
The Nebula Astro is a tiny projector with a cute, kid-friendly design. It's marketed for portability but can easily replace the TV in a child's room or playroom.
Design
The Astro Portable Projector fits comfortably in the palm of your hand. It's only available in white and is made of matte plastic, so it feels premium and solid, though probably not durable enough to survive a fall or a throw from a cranky toddler.
It has a friendly look comparable to the EVE robot in Pixar's "Wall-E." The front consists of a black hooded lens that houses the projector and the proximity sensor, with a small wheel for focus control residing nearby.
Speaker grills are on each side of the device, the back, and the base, and are flat for laying the device down easily. There is a standard tripod mount on the bottom and the rear has a USB-C port and HDMI port.
The small black circle contains the IR receiver for the included remote. The top contains a couple of buttons for simple controls: power on, volume up/down, and a toggle switch for the Bluetooth speaker mode.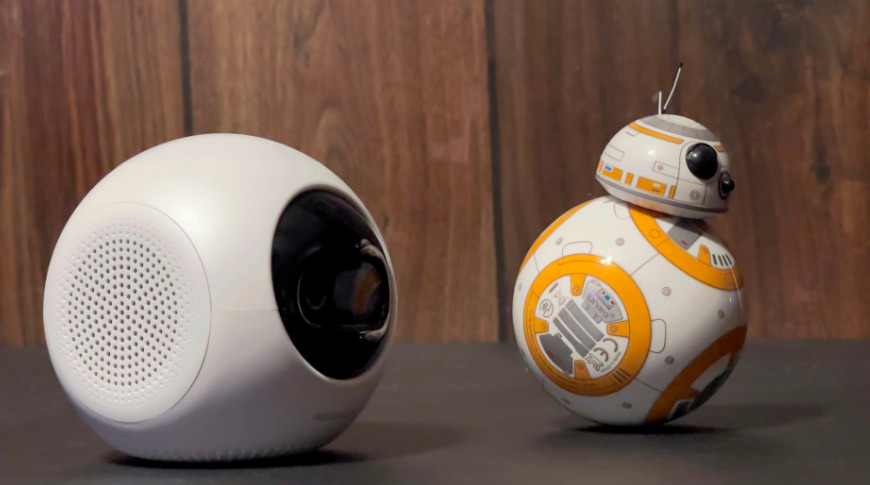 Astro's design obviously pulls from sci-fi like Star Wars
Specs
The projector casts an image at 480p resolution at a 16:9 ratio. You have to manually adjust focus, and the lamp life is rated at 30,000 hours.
There is a proximity sensor built into the front of the projector to stop the lamp from harming the eyes of curious children. If anything passes in front of the projector, the lamp shuts off until the sensor is no longer obscured.
It has two ports in the rear and the USB-C port doubles as a data input or a charging port. The HDMI port is rated for HDMI 1.4, though it will still only output 480p.
The projector weighs only 13 ounces and is almost a perfect cube at 3.6 inches high, 3.2 inches wide, and 3.5 inches long.
Software
The Astro projector runs a skinned version of Android 7.1 with a built-in proprietary app store. You can download some entertainment apps like Amazon Video or Netflix, and games like Crossy Road. The selection is limited, but includes the most popular apps.
The software includes parental controls so you can place a passcode on apps and restrict adult content. Using YouTube and Netflix is no different from using the apps on a smart tv.
The software sometimes lags and the remote becomes unresponsive, though that may be due to limited processing on the Astro. When navigating the software or viewing content, the cooling fans spin up loudly. The speakers often drown out this sound, but it is audible at lower volumes.
Astro benefits Apple users by being an AirPlay device, mirroring the display of an iPhone or iPad and streaming video. It will not play DRM content, however, so you can't stream iTunes purchases or Apple TV+.
There is an official Nebula app for controlling the projector without the included remote. It works fine, but instead of having digital buttons, it presents a large trackpad to touch and swipe to interact.
The biggest benefit of using the remote app is access to a keyboard, as typing using the physical remote is painstakingly slow.
Using the Astro Projector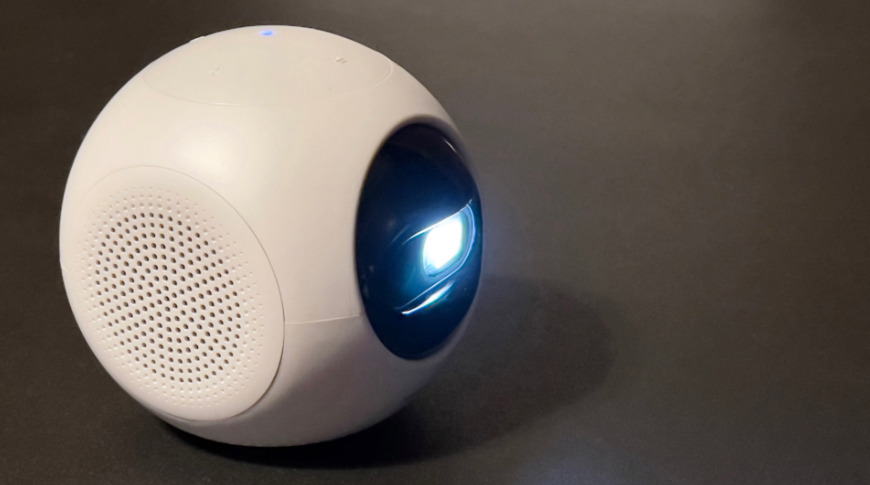 The Astro Projector turns off the bright lamp when someone crosses too close to the device
Power on the Astro Projector with the switch on top of the device or using the included remote. After a short boot-up sequence you are greeted with the list of installed apps.
We recommend setting up the apps using the phone app since you'll have access to a digital keyboard. Otherwise, you'll be navigating a virtual keyboard using a directional pad.
The interface is fairly basic, and it is designed to show what apps you have downloaded and gets you to the media playback quickly. The app store is hidden in the settings menu, which can be a bit odd at the first launch.
Projector mode: Streaming apps
After setting up the apps, everything works as expected. You'll be able to open an app, select what you want to watch, and exit out using the simple controls.
There is a built-in parental control section in settings to restrict apps and content using a password. Streaming at 480p does not require a strong internet connection, so streams start fast and rarely buffer.
Nebula says that streaming will last about 2.5 hours when not connected to power. You can connect a battery pack to extend use, but it must output at least 10W.
The time to a full charge when not in use is 2 hours.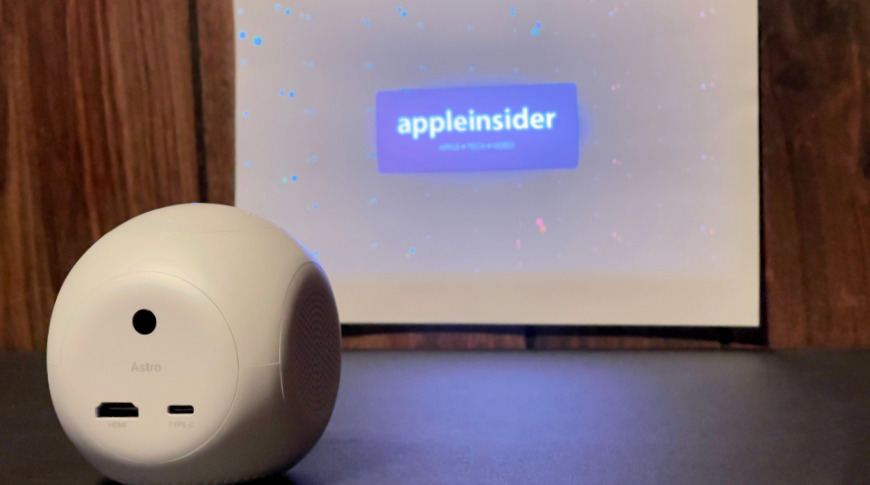 Playing YouTube videos works as expected
The projector will show a decent quality image in a dark room with a white backdrop. Physically moving the projector will change the size of the displayed image, as expected.
The projector will adjust the angle of the displayed image based on how it's physically angled where mounted.
Speaker mode
A button on the speaker, or a menu in software, can toggle speaker mode. This shuts off the projector and turns the Astro into a Bluetooth/AirPlay audio receiver.
The audio quality is not amazing, but if you're using this to entertain kids through the quiet moments, then that is a non-issue. There isn't any bass to speak of, but the audio does come through loud and crisp.
You can use speaker mode for up to 14 hours over Bluetooth.
Projector mode: HDMI and USB-C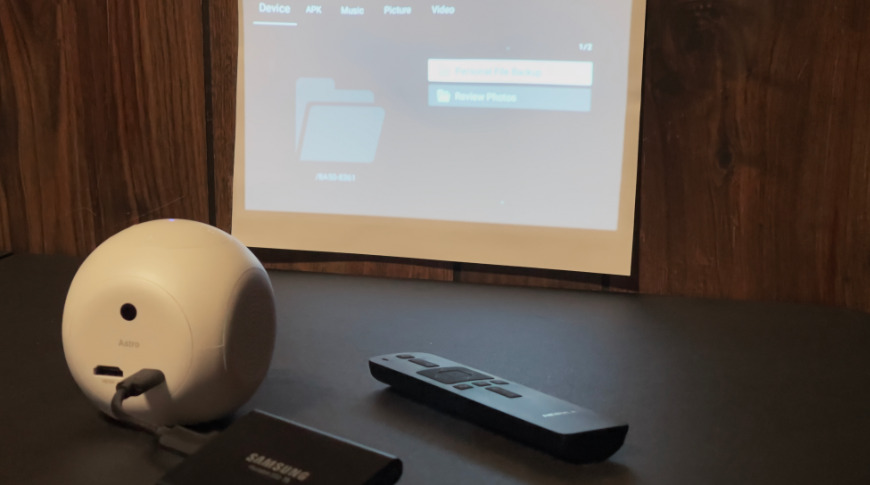 Connecting this 1TB external SSD to Astro was simple
Despite being a small projector, there are a wide variety of options for getting video to the device. You can connect anything via HDMI making the Astro a great portable TV.
The USB-C port can read memory from flash drives and hard drives that don't need external power. When connecting an external drive via USB, files will show up in an app on the Astro, which works in a straightforward fashion. Popular formats like H.264, VP8, DivX are supported.
Should you buy the Nebula Astro Projector
The limited specs and sometimes-finicky software do not completely undermine this projector. Since it is aimed at younger children, they will happily watch whatever is being streamed without any concerns about pixel count or audio quality.
That being said, these specs seem a bit low despite a $280 price tag. Other entertainment options exist within that price range without needing access to a hanging sheet or empty white wall.
This device fills a specific niche that will make certain people very happy. If you live in a large home where you're constantly moving about with a toddler, and happen to have white walls, you might find such a device a godsend.
Other use cases could include projecting an Xbox onto a sheet during a sleepover or having an additional entertainment source in the hotel room while traveling with kids. If you cannot think of an opportunity to use the Astro, then it may not be for you.
Despite its limited use case and software quirks, this is a good portable projector. A better specification would mean a bigger and more expensive device, so the Nebula Astro may just fit into your life.
Portable and kid safe design
Modern type-C charging
Decent speaker quality
Expensive given OS and resolution
Short battery life limits use case
Rating: 3.0 out of 5
Where to Buy
You can buy the Nebula Astro Portable Projector at Amazon for $279.99.