After decades of regular airings, it appears that "It's the Great Pumpkin, Charlie Brown" won't be on broadcast television — but this and every "Charlie Brown" annual viewing tradition can continue. Here's how just about anybody can watch, for free, using Apple TV+ and a browser.
Apple's recent deal to stream new and classic Charlie Brown shows has had one casualty. For the first time in generations, "It's the Great Pumpkin, Charlie Brown" will not air on US broadcast television. It will certainly, though, be available for free on Apple TV+ and you won't even have to install an app to see it.
Made by CBS in 1966, it has become less a TV show and more a tradition as it's been screened at least once around Halloween for the last 54 years. Now those TV network rights have lapsed and the show has been caught up in Apple's overall Charlie Brown deal.
However, while the deal means that the show won't be on broadcast television, Apple has confirmed that it will be available for free — for a limited time.
When you can watch
Apple is not making all of the "Charlie Brown" specials and series available at once. Instead, it's introducing them over the next few months and it's doing each one in two steps.
First all paying Apple TV+ subscribers will be able to see them from a certain date. Then, second, they will be made free for a limited time.
So "It's the Great Pumpkin, Charlie Brown," has already arrived on Apple TV+ — it began streaming on October 19 — but it will be free to watch from October 30 to November 1.
Similarly, "A Charlie Brown Thanksgiving" is due to arrive for Apple TV+ subscribers during November. It will be freely streamed from November 25 to November 27.
The most famous "A Charlie Brown Christmas" is coming to Apple TV+ on December 4. According to Vulture, Apple has indicated that the show will stream for free from December 11 to December 13, though this has not yet been confirmed.
Where to watch "Charle Brown" on Apple TV+
You can watch these and any other available Apple TV+ shows and series through four different routes. This includes the official Apple apps, such as that on the iPhone.
However, there is there is also the Apple TV set-top box, and then there are selected smart TVs.
But, nearly any user on any platform can watch online via any modern browser. Browser streaming may be the most convenient for people who solely want to catch these specials, and don't have an Apple device.
How to watch "It's the Great Pumpkin, Charlie Brown" on Apple TV+ without a subscription
In any modern web browser, go to tv.apple.com
Find the show and press Play
Either watch it on your computer, or stream it to a television of your choice
Alternatively, while Apple is promoting the show, you can also go directly to its page online.
You can also stream from the iPhone, or iPad version of the Apple TV app. Plus you can watch on those apps on iPhone, iPad, Mac and Apple TV.
Through the official app, the show will be presented with just a regular Play button, and you won't be pressed into subscribing Apple TV+. At least, not quite as much as usual.
What this means for Apple
Viewers have been used to watching these "Charlie Brown" specials for free on network television for the last couple of generations. The fact that they will be free on Apple TV+ is better than Apple demanding payment for what's seen as part of the fabric of American holidays.
However, it's still not a great look for Apple. We don't know, and may never find out, what happened here. Certainly the rights period for "Charlie Brown" were expiring. Maybe Apple swooped in and outbid ABC, or maybe ABC made its own decision not to renew.
The odds are, though, that ABC will be seen as the victim. Apple will not be seen as the savior of this holiday tradition. Similarly, we can't tell whether Apple's decision to offer free streaming is their own largess, or a contractual requirement from the rights owners.
What we can know is Apple is not helping itself with how preposterously hard it is to find a given show on the service. Online and on all the Apple TV+ apps, specific shows are either promoted prominently or buried away.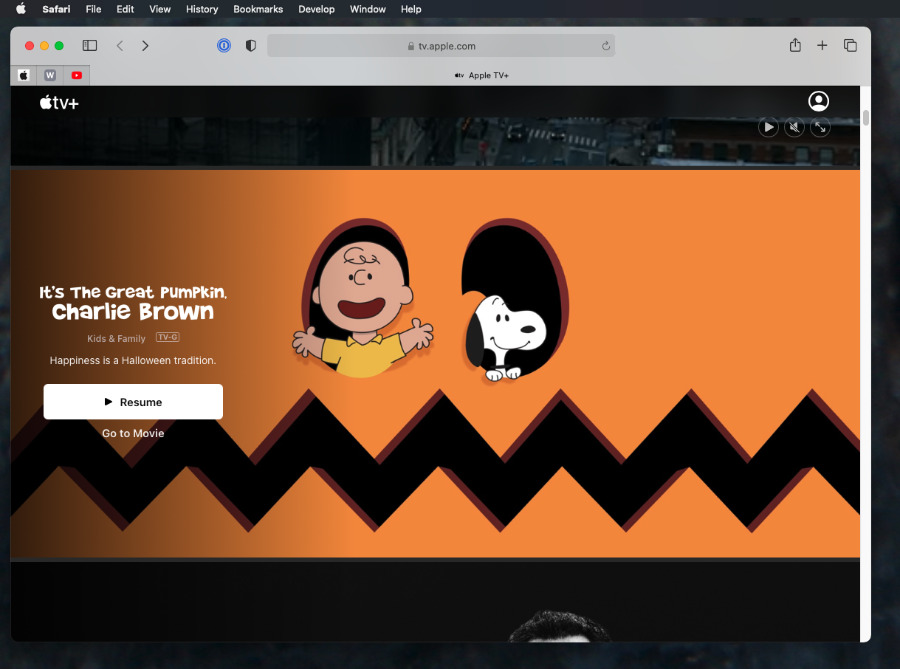 Currently, "Charlie Brown" is being promoted on tv.apple.com
On the tv.apple.com website, though, it's worse. If you go to that site, you can watch any Apple TV+ show that is free — or any show at all if you're already a subscriber — but there isn't even a search feature.
Instead, you get presented with a long list of Apple TV+ shows and mostly all that links them is that they're the ones Apple has decided to promote. If you are a subscriber then you may also see whatever you've last been watching on the app.
Doubtlessly each "Charlie Brown" show will be promoted there during its free period, just as is currently happening with the Halloween special. But if Apple wants this to lead to people exploring more and signing up, it needs to make finding your way around a lot easier.
ABC viewers are not going to be in a good mood when they come to Apple TV+, so Apple really should not frustrate them when they get there.